The development of clean and renewable energy is essential for the future. Humanity must combat climate change and reduce our reliance on fossil fuels. As humankind continues to search for innovative ways to produce energy, more and more organizations are turning their attention to the idea of floating solar farms.
What these solar farms are? Let's discuss the benefits they present, the challenges they face, and how their growth may shape the future of renewable energy sources.
Renewable Energy
The future of renewable energy is here, and it comes in the form of floating solar farms. As toxic fuels continues to threaten our planet, we must find innovative ways to reduce carbon emissions and move away from fossil fuels. These new solar farms offer an attractive solution, harvesting clean energy from the sun's rays while also offering a unique way to conserve water resources.
Floating photovoltaic systems are being installed on lakes, reservoirs, and other bodies of water around the world at an increasing rate as organizations seek out solutions for sustainability.
What are Floating Solar Farms
Floating solar farms are an innovative form of renewable energy production that harvests the sun's rays to generate electricity. These floating photovoltaic systems are comprised of hundreds or thousands of solar cells connected together and mounted on a buoyant platform, which is then installed in bodies of water such as lakes, reservoirs, and rivers.
This method offers many advantages over traditional ground-mounted solar arrays, it conserves land resources by taking up only the space above the water, increases efficiency due to reflecting light off the surface of the water back onto its panels, and reduces evaporation from these large bodies of water.
This technology can also be used for irrigation purposes by pumping clean energy into pumps located near agricultural areas allowing farmers to maintain their crops with minimal environmental impact.
Floating solar farms have become increasingly popular in recent years due to their potential for providing renewable energy at a lower cost than traditional methods while also offering other benefits such as reduced evaporation losses and improved air quality around cities where they're located.
The Benefits
Floating solar farms offer a wide range of advantages over traditional ground-mounted systems. As the panels are placed on bodies of water, they don't require any land, thus eliminating potential conflicts for space and helping conserve valuable resources.
These photovoltaic systems benefit from the reflection off the surface of the water, which increases their efficiency and allows for more electricity to be generated per panel than with ground-mounted arrays. Furthermore, by harvesting clean energy from natural sunlight floating solar farms can reduce our reliance on fossil fuels and help combat climate change.
When installed near agricultural areas these solar farms can provide renewable energy to power irrigation pumps while also reducing evaporation losses in large bodies of water. All of these benefits make floating solar farms an attractive option for organizations seeking out solutions that will allow them to meet their sustainability goals while providing a reliable source of renewable energy at reduced costs compared to traditional methods.
The Challenges
The development of floating solar farms presents many challenges that need to be addressed if the technology is to reach its full potential.  Due to the fact that these photovoltaic systems are installed on bodies of water such as lakes and reservoirs, they must be designed in a way so as not to disrupt aquatic life or cause any kind of damage.
This means ensuring that all equipment used is appropriately anchored and non-invasive in order for it not to interfere with existing ecosystems. Another major challenge faced by floating solar farms is their susceptibility to weather conditions such as wind, waves, and rain which can lead to considerable damage if not addressed through appropriate design measures.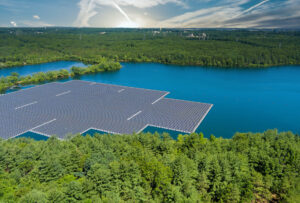 While these systems may offer cost savings compared to traditional ground-mounted arrays over time they still require significant upfront investments which can be difficult for some organizations that do not have access to capital or financial assistance when setting up a project. Nevertheless, despite the numerous challenges faced by this technology, there is no doubt that its continued growth holds great promise for providing clean energy at reduced costs than other methods while also helping conserve valuable resources like land and water.
The Future of Floating Solar Farms
The future of floating solar farms looks incredibly promising. With the increasing demand for renewable energy sources and the need to conserve land resources, these photovoltaic systems offer an attractive solution that can help reduce our reliance on fossil fuels while also providing other benefits such as improved air quality around cities.
As research into this technology continues, new advancements in design and engineering are being made to make these systems more efficient, reliable, and cost-effective. With the continued growth of government subsidies and incentives for organizations investing in renewable energy projects, it is likely that more businesses will take advantage of floating solar farms at a lower cost than traditional methods.
As awareness about the potential of floating solar farms grows so too does investment from both public and private sectors as they recognize its value in providing clean energy without taking up valuable land resources or disrupting existing ecosystems.
This increased interest has led to significant advances in the technology which have allowed it to become increasingly competitive with ground-mounted arrays when it comes to efficiency and reliability while still offering additional advantages such as reduced evaporation losses from large bodies of water near agricultural areas.
Final Words
We can expect further growth within this industry over the coming years which could lead us closer to achieving our climate change targets while also providing a reliable source of renewable energy at lowered costs compared to traditional methods.
Overall, it is clear that Floating Solar Farms are the latest innovation in renewable energy, offering cost and environmental advantages. We must begin to address the challenges associated with implementing these innovative solutions if we are to truly reap their benefits and power the future of sustainable energy.
With increased investment in technology, infrastructure, research, and education, Floating Solar Farms will become a viable source of clean energy across many regions of the world.