One of the most important things to any business is its financial health. This is done by keeping tight margins and making sure that you are getting a return for every pound spent. You can do this by keeping your USA payroll accounts and systems, in good shape.
Payroll solutions are essential for any company that hires employees who need to get paid.
This article will look at different tips and tricks for keeping your payroll systems maintained and running smoothly.
Use an up-to-date HR system with your Payroll System
HR systems can be a source of significant headaches for businesses, as they can be slow and cumbersome to use.
If you're running a US payroll system, it's important to make sure your HR systems are up-to-date.
There are a few things you can do to keep your HR systems up-to-date:
Stay up-to-date on USA employment law. This will help you ensure that your payroll system is compliant with all relevant laws and regulations.
Use HR software that is designed for the US payroll systems. This will help you automate and streamline your payroll processes.
Keep your employee data up-to-date. This includes ensuring that your employee records are accurate and up-to-date.
By taking these steps, you can help ensure that your USA payroll system runs smoothly and efficiently.
Keep track of your Employee Benefits
As an employer, it is your responsibility to keep track of your employee benefits and make sure that your USA payroll systems are running smoothly.
This includes ensuring that employees are enrolled in the correct benefits plans, keeping track of employee contributions, and making sure that all tax and insurance contributions are up to date.
Failure to keep track of employee benefits can lead to problems with your USA payroll, so it is important to stay organized and on top of things. By staying on top of your employee benefits, you can avoid any potential problems and keep your payroll systems running smoothly.
Make sure you are regularly tracking your employee benefits to ensure that you are fully aware of all the benefits your staff is entitled to. This will help you to minimize any potential liabilities and ensure that your employees are fully paid for their work.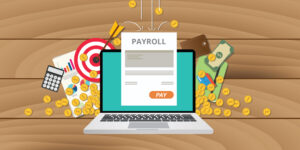 Use Software to streamline your Payroll
In the United States, minimum federal wage standards are regulated by the Fair Labor Standards Act (FLSA).
At present, the minimum wage is $7.25 per hour. Payroll software can help streamline this process by automatically calculating the appropriate amounts to be paid to each employee's considering this minimum wage within the payroll system.
This will save businesses time and hassle, and ensure that employees are fully paid for their work.
Payroll software can also help keep track of employee leave and absence, as well as calculate holiday pay. This can take a lot of the administrative burden off of employers, freeing up time to focus on other aspects of their business.
Final Words
Many businesses use software to maintain their employee files. This software then helps keep track of employee history and to ensure that businesses have a complete record of employee performance.
Finally, it is always a good idea to have a backup payroll system in place in case of any unforeseen technical issues.
By following these simple tips, you can help to ensure that your USA payroll systems run smoothly and efficiently.