45th U.S. former president, Donald Trump, was expected to make an announcement this Friday. The New York Times, citing three sources briefed on the plan, reported that Trump will announce his decision at a rally in Indiana.
The White House has not confirmed this report. CNN also reported that Pence and other campaign officials were working with the Trump team to set up a formal announcement for later on Friday afternoon…
Trump's 'Major Announcement' Is about NFT
The announcement was not about the elections whatsoever, but about The Trump, NFT Collection is called Trump Digital Trading cards, which contains more than 25,000 items in the style of the Superhero-Themed NFT Collection, that have been handpicked by Donald J. Trump himself and sold in limited numbers to the public at auction.
Donald Trump announced his new NFT collection with a commercial.

Here it is: pic.twitter.com/yBLpn1Zb0f

— unusual_whales (@unusual_whales) December 15, 2022
Donald Trump launched $99 NFT trading cards
Former US president, Donald Trump launched an NFT collection today, on December 12th. The collection's trading volume is 900 ETH. The price of each item varies, but most are between $500-$10,000 or more depending on their rarity and condition.
The NFT collection was available for sale online on its new website – https://collecttrumpcards.com, where the Donald Trump limited edition trading cards could be bought for $99 each.
The collection has sold out within around 12 hours. All proceeds go directly to the Donald J. Trump Foundation, which has donated over $3 million to charitable organizations since 2007. The first print run has sold out in the United States and Canada, but you can still get them from other countries.
Mr. Trump said:
"These limited edition cards feature amazing ART of my Life & Career!"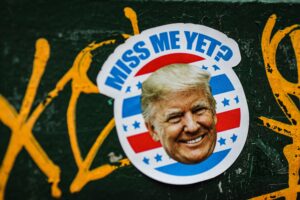 Trump's Sweepstakes
Trump Sweepstakes is a game of chance, where players can sign up and win cool prizes such as dinner with the former president or join him on a game of Golf.
Anyone who buys Trump's NFT card will enter the sweepstake automatically. All the participants need for purchasing a Trump NFT card is an email address, then they can purchase it with Crypto or credit card.
NFT – Digital Trading Card
NFT is an abbreviation for "non-fungible token". NFTs are unique digital assets that can be transferred, traded, and stored securely.
They are cryptocurrencies with a built-in mechanism to assure their ownership. Unlike existing currencies, where the same coin may exist in multiple places at once, each NFT represents a single unit of value that cannot be copied or duplicated by anyone else.
Final Words
Donald J. Trump is a billionaire real estate developer and reality television personality who was elected as the 45th President of the United States on November 8, 2016, by defeating Hillary Clinton in one of the most highly watched elections in U.S. history. He ran with the slogan "Make America Great Again".